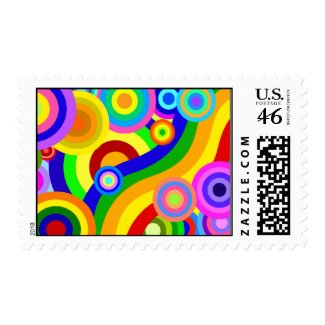 Colorful Retro Wavy Dots
by
binderific
Learn
ways to make money as an artist
on Zazzle.
Colorful Retro Wavy Dots
pretty fun swirls and dots on stamps are beautiful fun and elegant way to spice up your envelopes.
Medium, 2.1" x 1.3"
Make each letter a special delivery! Put a personal touch on your mail, or share this useful gift with friends and family. Zazzle's medium custom stamps fit especially well on greeting card or RSVP envelopes.
* Landscape: 2.1" x 1.3" (image: 1.4" x 1.1").
* Portrait: 1.3" x 2.1" (image: 1.1" x 1.4").
* Image aspect ratio: 3 x 4.
* 20 stamps per sheet.
* Choose from thirteen postage denominations:
$0.32: Post Card
$0.45: 1st Class Letter, 1 oz
$0.65: 1st Class Letter, 2 oz or 1 oz odd
$0.85: 1st Class Letter, 3 oz or 2 oz odd
$0.90: 1st Class Large Envelope, 1 oz
$1.05: 1st Class Letter, 3.5 oz or 3 oz odd
$1.10: 1st Class Large Envelope, 2 oz
$1.25: 1st Class Letter, 3.5 oz odd
$1.30: 1st Class Large Envelope, 3 oz
$1.50: 1st Class Large Envelope, 4 oz
$1.70: 1st Class Large Envelope, 5 oz
$1.90: 1st Class Large Envelope, 6 oz
$5.15: Priority (up to 16 oz)