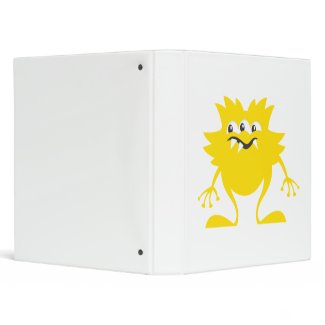 Gold Three-Eye Alien
by
alien_nation
See more
Alien Binders
Gold Three-Eye Alien
This adorable little yellow guy is just looking for you! and with those three big eyes he will find someone to take him home I am sure! If you love aliens, martians or extra terrestrials then you will love this! This Alien is one of a kind and unique and wants to go home with you today! perfect as a gift for someone special or just to buy for yourself!
Avery Signature 1" Binder
Create eye-catching Avery Custom Signature Binders for home or office. Design unique wedding albums, recipe books and photo albums. Showcase your business with custom client binders, proposals and reports. 3-Ring binders include full-bleed, photo-quality printing on the front, back and spine, and 4 pockets. The Avery Signature 1" Binder comes in two different ring types.
* 1.4" spine.
* Full-color, photo-quality printing.
* Holds 175 pages with EZ-Turn™ Rings or 275 pages with 1 Touch™ EZD™ Rings.
* Designed for 8.5" x 11" sized paper.
* Two additional binder sizes available.
White
EZ-Turn™ Ring
1" Capacity: 175 pages
1.5" Capacity: 375 pages
2" Capacity: 500 pages
Gap Free™ ring prevents gapping and misalignment