Graffiti Brick Wall
Bright Bold Colorful designs. These parents are unique and creative. if you love bold vibrant colors and unique fun designs you should check out these great speakers.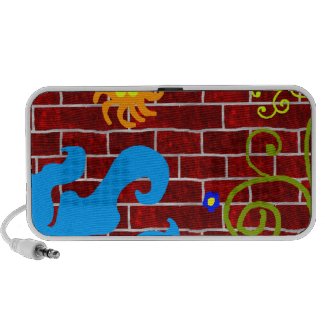 Graffiti Brick Wall
by
doodle_speakers
See more
Graffiti Speakers
Doodle by OrigAudio™
Plug in your creativity with the first ever custom portable speaker! Doodle by OrigAudio™ is a light and durable hard-plastic speaker with a vibrantly printed fabric face cover and kickstand for easy propping. Powered by USB cable (included) to power via your computer or 2 AAA batteries (not included), the Doodle speaker has a 3.5 mm. headphone jack that is compatible with any standard music device. This fun little speaker makes it easy to take your music and your style anywhere!
Depth: 7/8 inches
Width: 2.5 inches
Length: 4.5 (1/16)
Weight: 9.6 ounces
Power: USB cable (included) to power via your computer or 2 AAA batteries (not included)
Works with ANY standard 3.5 mm. headphone jack audio product