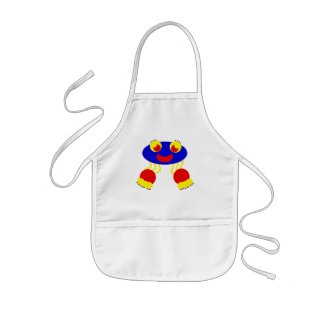 Wagglee
by
Kooblees
make money as an artist
using Zazzle.
Wagglee
This apron is perfect for sending your kid back to school!! every little artist needs a good smock!!
Wagglee is just an adorable squid like kooblee with big red feet & a blue body. he is goofy and smiley with all primary colors. his big smile will brighten your day every day!
This adorable little Kooblee is one of a kind from my collection of hand made unique Kooblees. No two are alike they are all perfect in their own special way. Each kooblee is made up of a variety of spots, dots, stripes, squiggles, squares and other simple shapes, in a random variety of colors. Perfect to teach your kid shapes and colors!!!
Kids Apron
Painting, drawing, crafts – all great activities, but hard on clothes. This kid length apron will keep your child clean. It's got two center pockets for holding all their stuff too. The apron is made from a 35/65 cotton-poly blend twill and is machine washable. 20" L x 15" W. Made in the USA.